Summer has always been my favorite season. When I was younger, it meant no school and my birthday. And now that I'm older, it means beautiful weather & plenty of BBQ's. So when it comes to summer staples, I have 3 staples that keep me comfortable through the summer months.
First, I turn to my most favorite tank top -
Anthropologie's Reversible Seamless Tank
. With a variety of colors to choose from, there is one to match any outfit. Then throw in the ability to wear it either as a scoop neck or a v-neck and you've got two tops in one!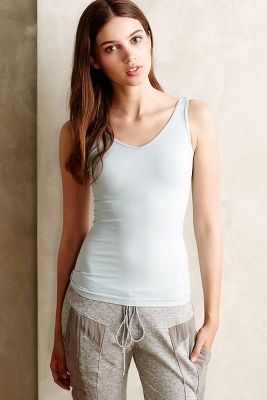 Second, during the hot days, you really shouldn't leave home without a bottle of water! I know there are countless reusable bottles out there these days, but my current go-to is the
Contigo water bottle
, with it's pretty colors & a BPA-free option.
The last, but certainly not least, on my summer staple list would have to be sunscreen. It's actually a more recent discovery for myself, but something I've learned is more important that I thought. After seeing what un-sunscreened skin looks like after years of sun exposure, I have learned that it's always good to bring a bottle wherever you go.
So what are you summer staples?
Check out BlogHer's
Life Well Lived page
for more ideas and while you're there,
enter to win an iPod touch
!